Check out the new sponsor boards!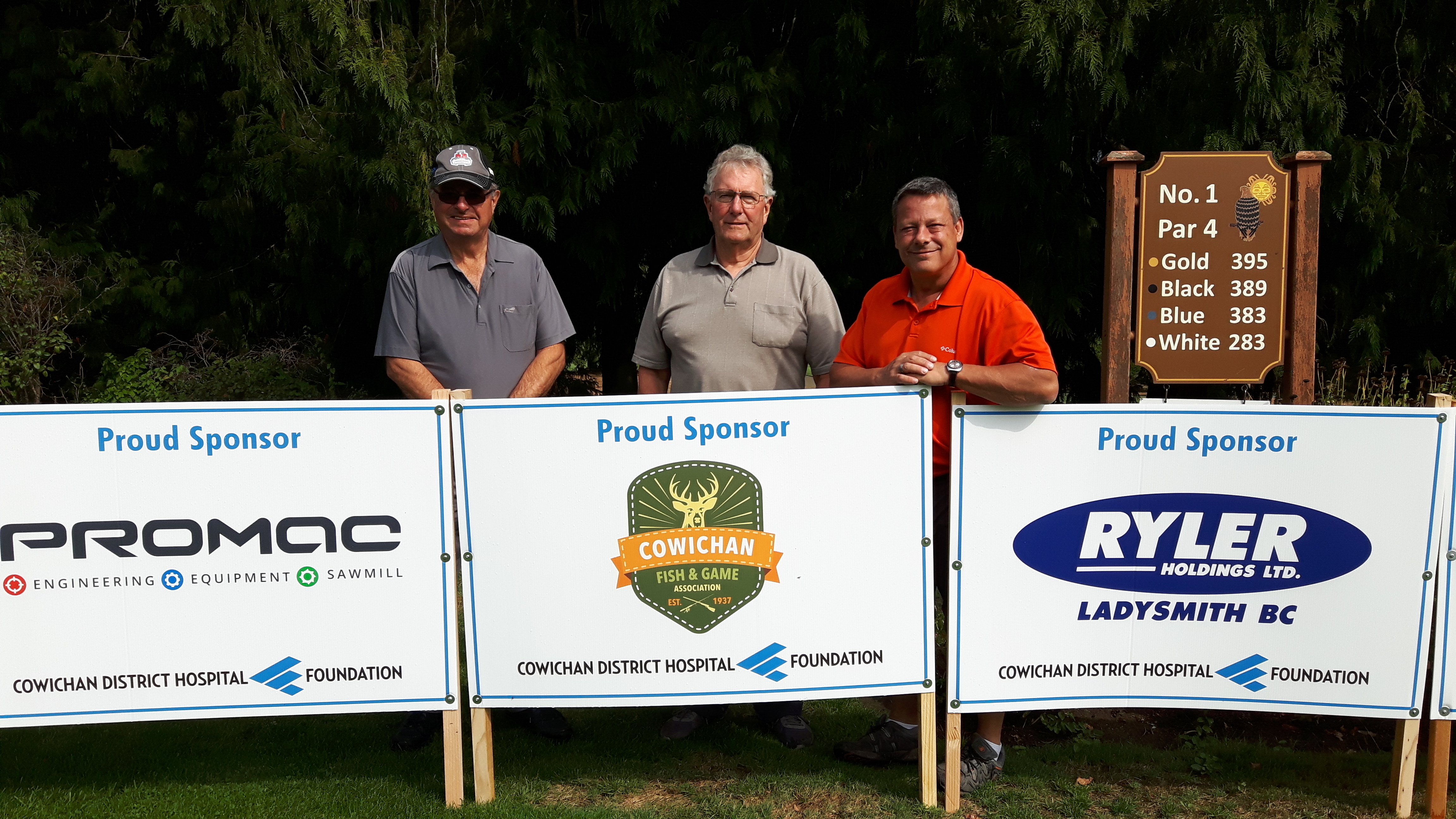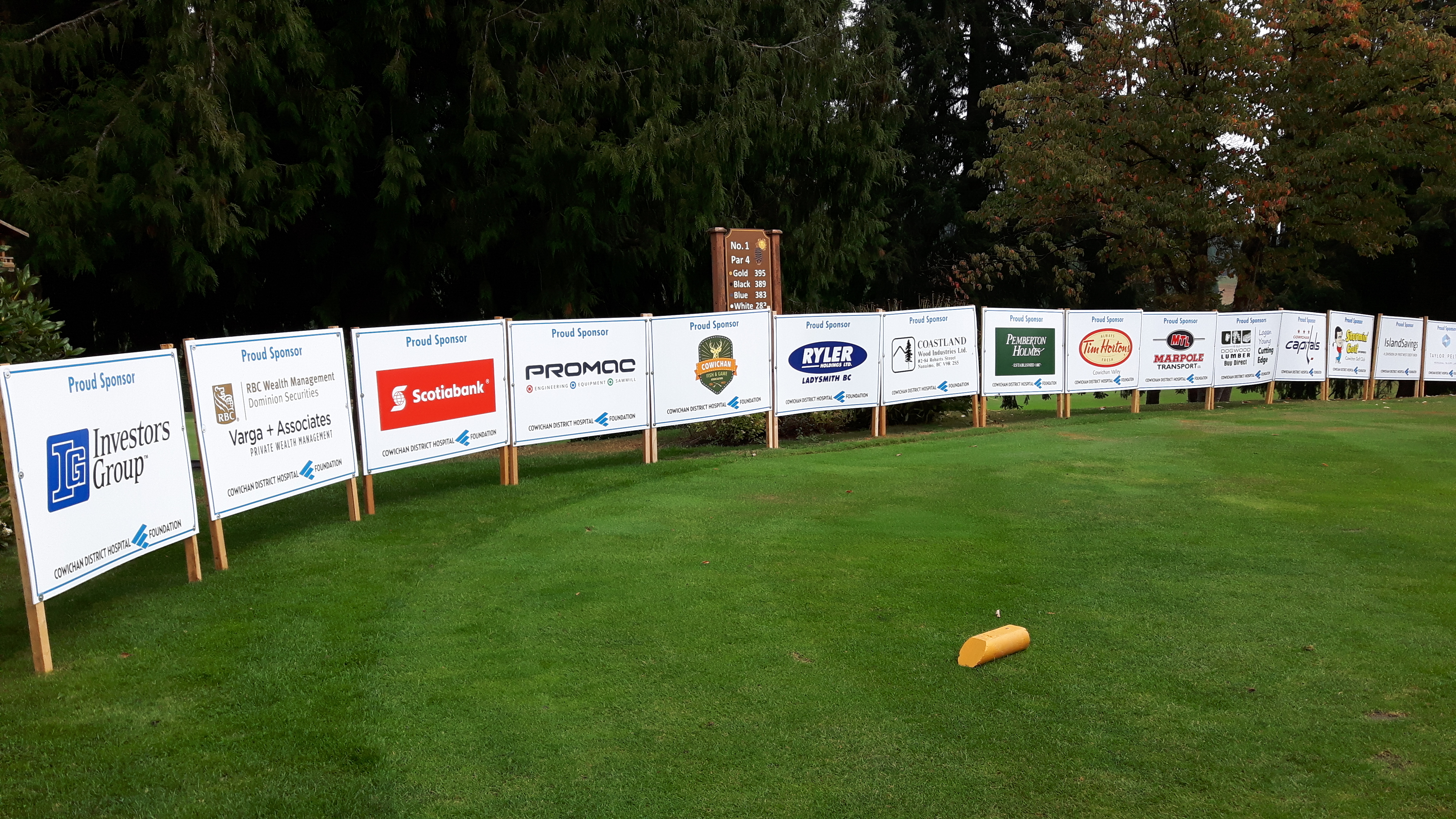 Please note below:
_______________________________________________________
There has been a new short safety film added to the Hand Gun Club section on our website, courtesy of Scottsdale Gun Club. I recommend all CF&G members view this as it is excellent.
Gary Sutherland, President Handgun Club
______________________________________________________
Cowichan Fish and Game Association
Summary of donations made to worthy causes for 2016
Cowichan District Hospital Foundation.                                                             $1 000.00
Cowichan Valley Search & Rescue                                                                    $1 000.00
Mill Bay & District Salmon Enhancement Society                                              $1 000.00
Port Renfrew Salmon Enhancement Society.                                                    $1 000.00
Canadian Shooting Sports Association Club Membership                                  $  500.00
Kids Learn To Fish                                                                                              $  500.00
Vancouver Island University**                                                                            $2 500.00
TOTAL DONATIONS                                                                                          $7 500.00
** Bursaries of $500 each to Vancouver Island resident students in the final semester of the following courses:
Bachelor of Natural Resource Protection
Bachelor of Science in Fisheries and Aquaculture
Earth Science
Forest Resources Technology
Resource Management Officer Technology
___________________________________________
To the members of the Cowichan Fish and Game Association
Salmon Enhancement News:

Hello Geoff:
Thought you and fish and game members would be interested to hear about our coded wire tag returns from our Port Renfrew net pen project. Last year was the 3rd year of marking our net pen reared Chinook [40,000]. I was reading a 200 page Alaska fisheries report and found some CWT data on our fish. In Kodiak Alaska the commercial fishery caught 3 of our CWT Chinook [3yr. olds]. As the crow fly's that is 1400 miles from Port Renfrew and by water that would most likely be double. In that Kodiak fishery [commercial and rec] there were 50,000 Chinook taken and 53% were from British Columbia. This was the first CWTs recovery we have received from our fish. It is good to know they were healthy enough to make that long journey. We now hope they come back home this year as 4 yr. olds.
Bob
_____________________________
This is a note to let you know that the members of the board are working with the Glenora Residents and B.C. Parks towards a solution for the noise abatement.
In addition, B.C. Parks will be starting the process for a park management plan for the Cowichan River Park of which we will all play a part in.
For more information, please attend the Annual General Meeting on the 10 th of November 7.00 pm at the Gazebo
Geoff Maxwell
President   
Also Note:
CFGA members

must

display a current CFGA membership card while on CFGA property
RSO program (Range Safety Officer)
             Meeting of RSO's

October 13

at 6:30 pm
Residents' noise complaint update:
            The reduction in shooting hours appears to be working. The noise complaints have been reduced significantly.
Temporary Range shooting hours:
           

Monday

–

Friday

: 9 am – 8 pm or dusk (no change)
           

Saturday

: 9 am – 5 pm
           

Sunday

: 9 am – 5 pm   Rim fire only (no centre fire)
   Trap range:
           

Wednesday

–

Saturday

: 10 am – 5 pm
Check out below for bulletins and information on recent events and activities. For day to day activities at the RANGE see the calendar.
Notice to members:
Please do not open the gate for shooters that do not produce a membership card. 
CFGA members MUST display their membership card while on CFGA property
Most recent good works of Cowichan Fish & Game Association.
Donated $1000.00 to the Chinook net pen operation at Port Renfrew.  Check out the photos on the FISHING page
Thank you to the members that volunteered for the work party.
Geoff Maxwell, Wes Hein, Joe Davis, Chris Whittaker, John Gibbs,Dale Hayton,     Jelmar Tromp, Rick Ferrel, Dennis Leslie, Brenda Donn, Richard Buck,Ron Monk.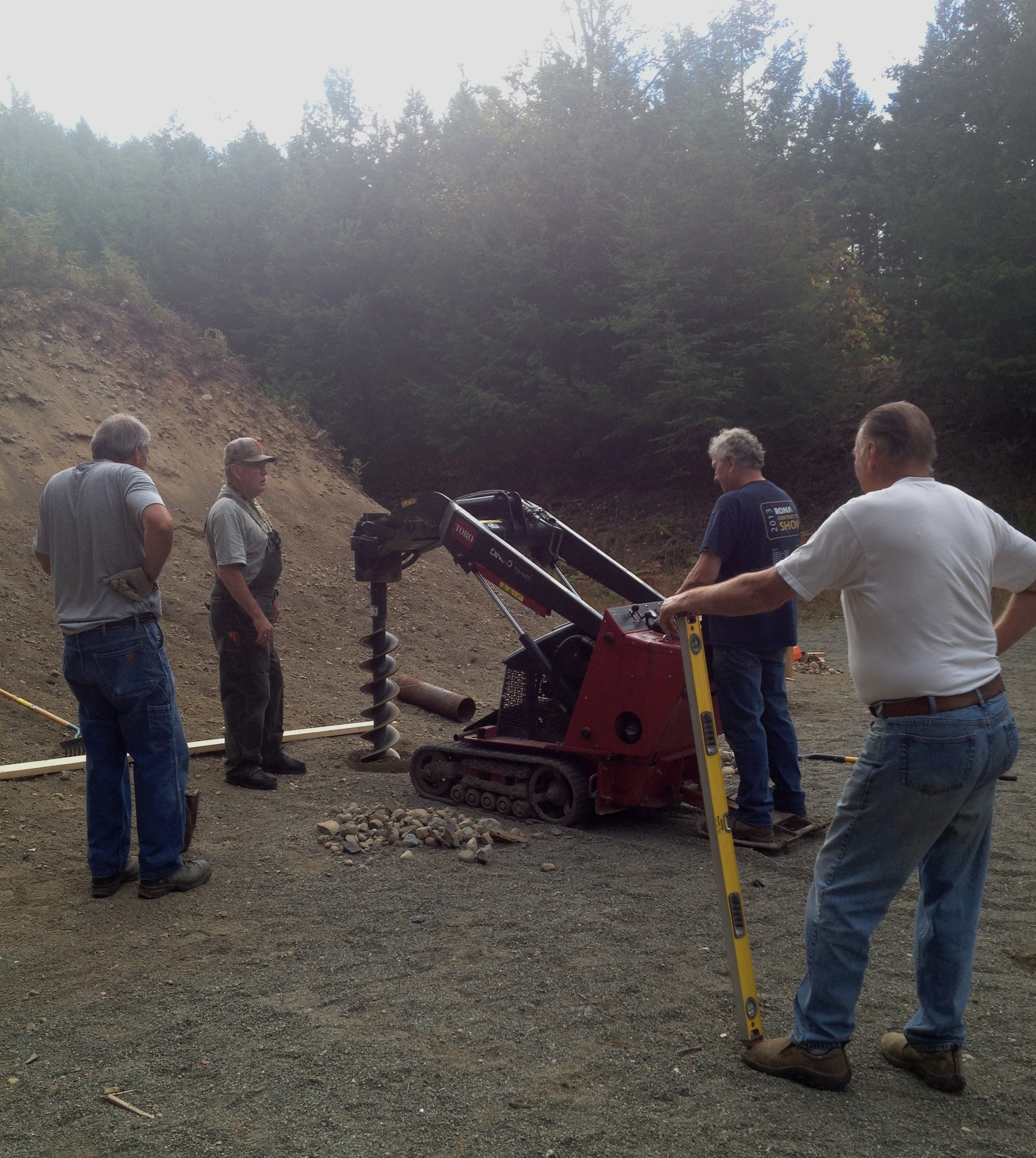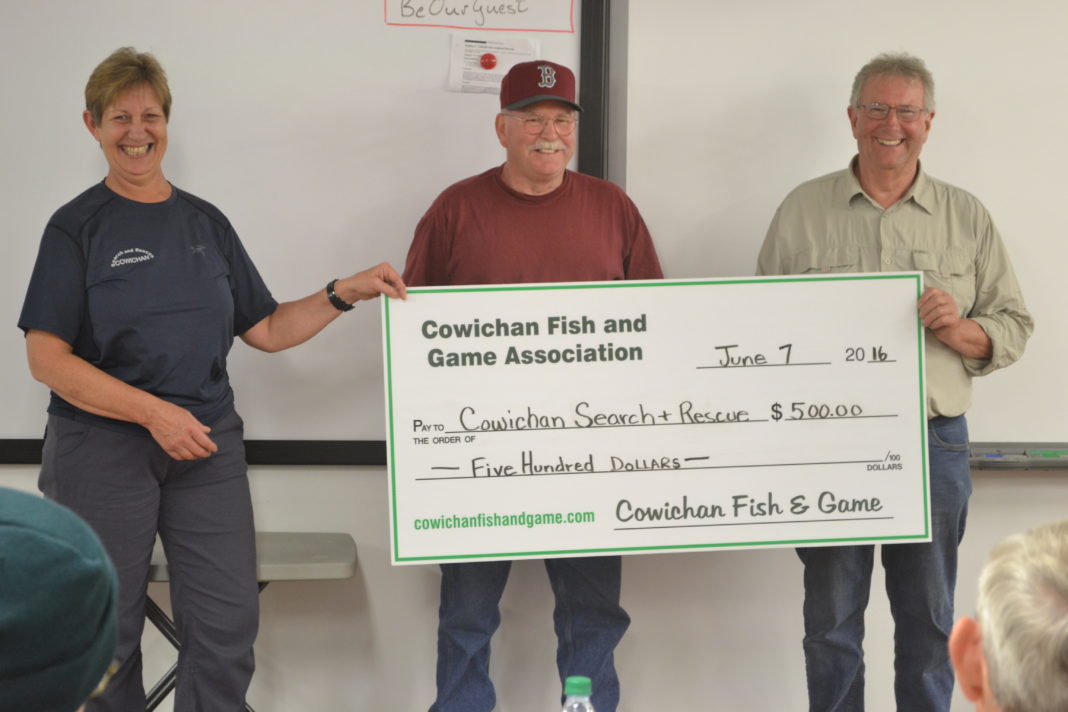 Cowichan Fish & Game, Proud Community Supporter
In the past few months we've seen the Cowichan Fish & Game Association step up and give to several community groups such as the Learn to Fish and Salmon Release programs.
Recently they were at it again with the association president, Geoff Maxwell presenting the Cowichan Search & Rescue with a donation to aid the group in their life-saving activities.
President Jeff Maxwell informed CSAR members that what they are doing is commendable activity as they are all volunteers giving freely of their time, with minimal gov't. funding and relying solely on public donations, saying that" Cowichan Fish & Game Association is honoured to be able to make this donation."
According to Maxwell we should be on the lookout for the Cowichan Fish & Game Club to be making additional community support activities over the next few months.
"The Fish & Game Association is about what the name says, but at heart that's really about our broader community, and we intend to support that where we can", Maxwell said.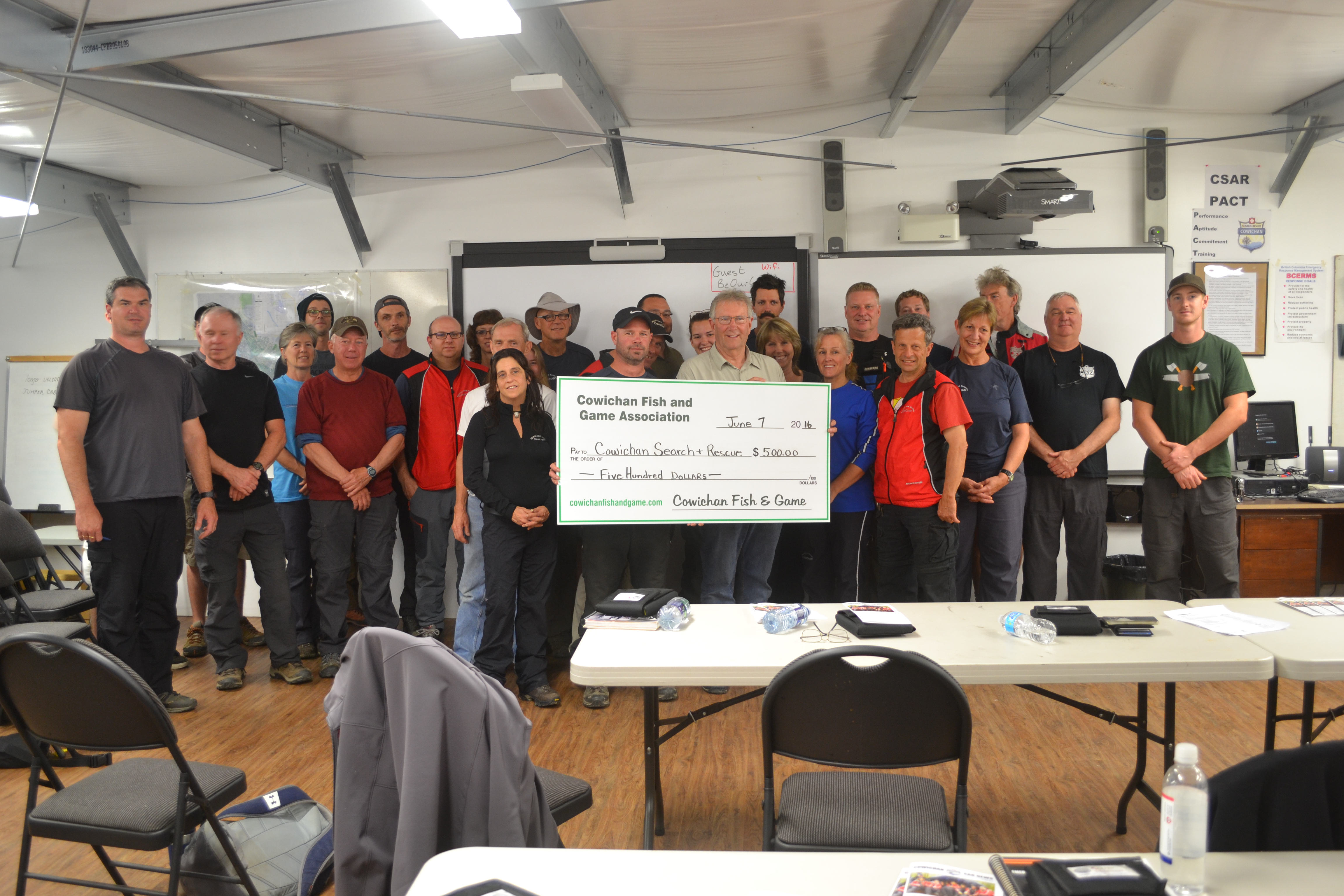 Click on the link below for the article on our donation to Kids Learn to Fish.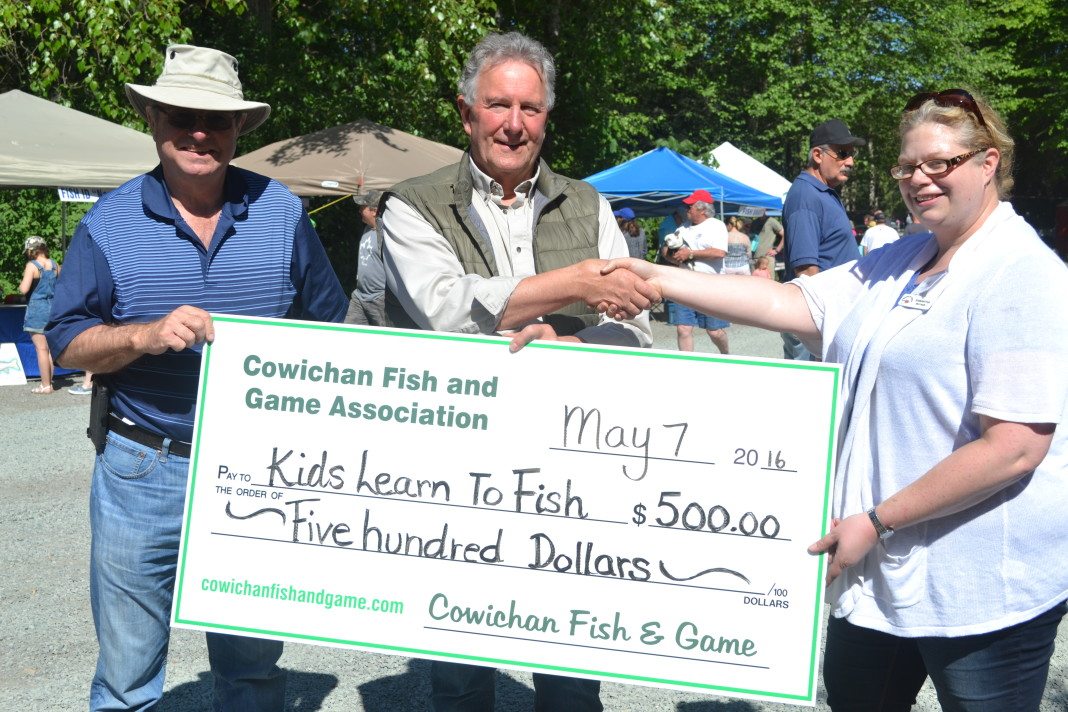 !!  Lost at the range: Bruel Kjaer sound level meter with an orange notebook.  Please contact a CFGA Director with information regarding this item.

To Cowichan Fish & Game members:
A Conservation, Education and Donation Committee was formed by the CF&GA Board of Directors to set rules and guidelines and to recommend organizations to receive a donation under these guidelines. The following organizations are the first selected to receive funding from the Cowichan Fish & Game Association for 2016.
There will be appropriate media coverage at the time of the donation or event when it occurs.
Mill Bay Conservation Society
Port Renfrew Salmon Enhancement Society
Cowichan Search and Rescue
Kids Learn to Fish
Geoff Maxwell
To all Cowichan Fish and Game Association members:
Insurance 2018
The CFGA directors have purchased 2018 club liability insurance from HUB insurance. The insurance policy from HUB does not cover liability of members using ATVs or ORVs.
HUB is offering a discounted insurance policy to club members. Click on link below: 2016 ORV-ATV HUB insurance
HUB liability coverage includes:
Legal liability for unintentional bodily injury or property damage arising out of your personal actions from the following activities being excess personal liability.
• Fishing
• Lawful shooting at a range
• Hunting
• Archery at a range
• Use of the ownership of a watercraft up to 26 feet with motors of not more than 100 horsepower.
CFGA members may purchase complete ORV/ATV liability insurance at a discount from HUB Insurance. ( see link above )                                                                          Liability insurance provider: HUB International Barton Insurance – Nanaimo
Ph: 250-740-8416
Membership News
CFGA 2018 membership application forms are posted on the Contact Us : Join Us page of the website. OR available at Bucky's Sport and Canadian Tire.
Please include
Valid PAL number
Changes to phone number, address or email address
Sign the form
Include the appropriate fees/dues
The completed forms and dues may be dropped in the guest fee box at the 100 yd range or mailed to the address at the top of the form
CFGA members are encouraged to join the Cowichan Fish & Game Facebook group. Members may use this social media to post buy/sell items, hunting & fishing news, shooting news or misc ideas.
Please phone a director with any questions.
Brenda Donn
CFGA membership committee
Please contact Brenda Donn to make arrangements to pick up your membership cards and FOBs. cfgamembership@shaw.ca or 250-743-1169
Next orientation : Check the calendar.
Sign in Procedures : Please remind your guests that the guest envelopes must be completed with Name, Address and PAL or birthdate.
Range Maintenance:  Target stand repairs: Material is now available at the 100 yd range for our members to use if needed to repair the target stands.