Check out the new sponsor boards!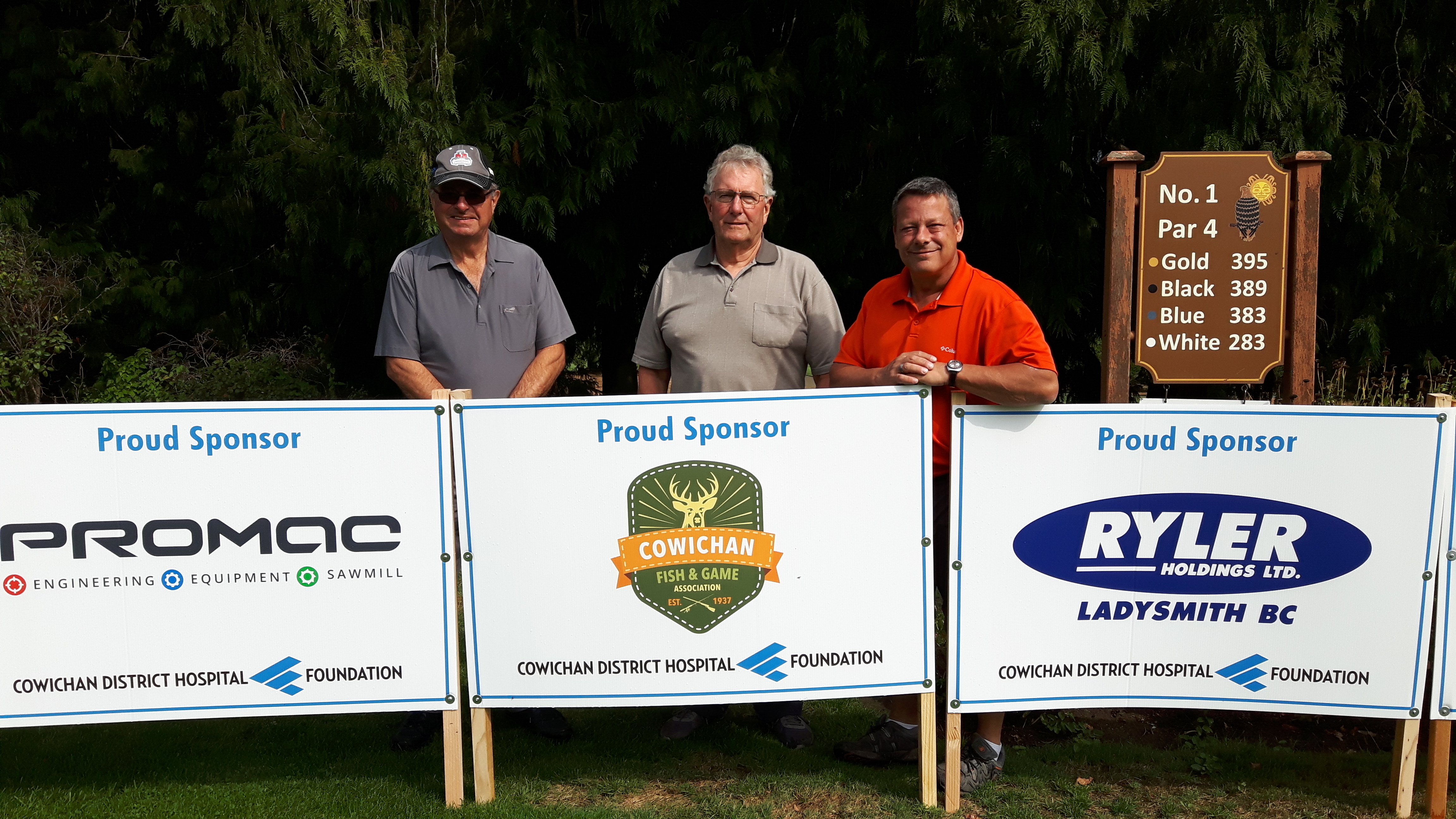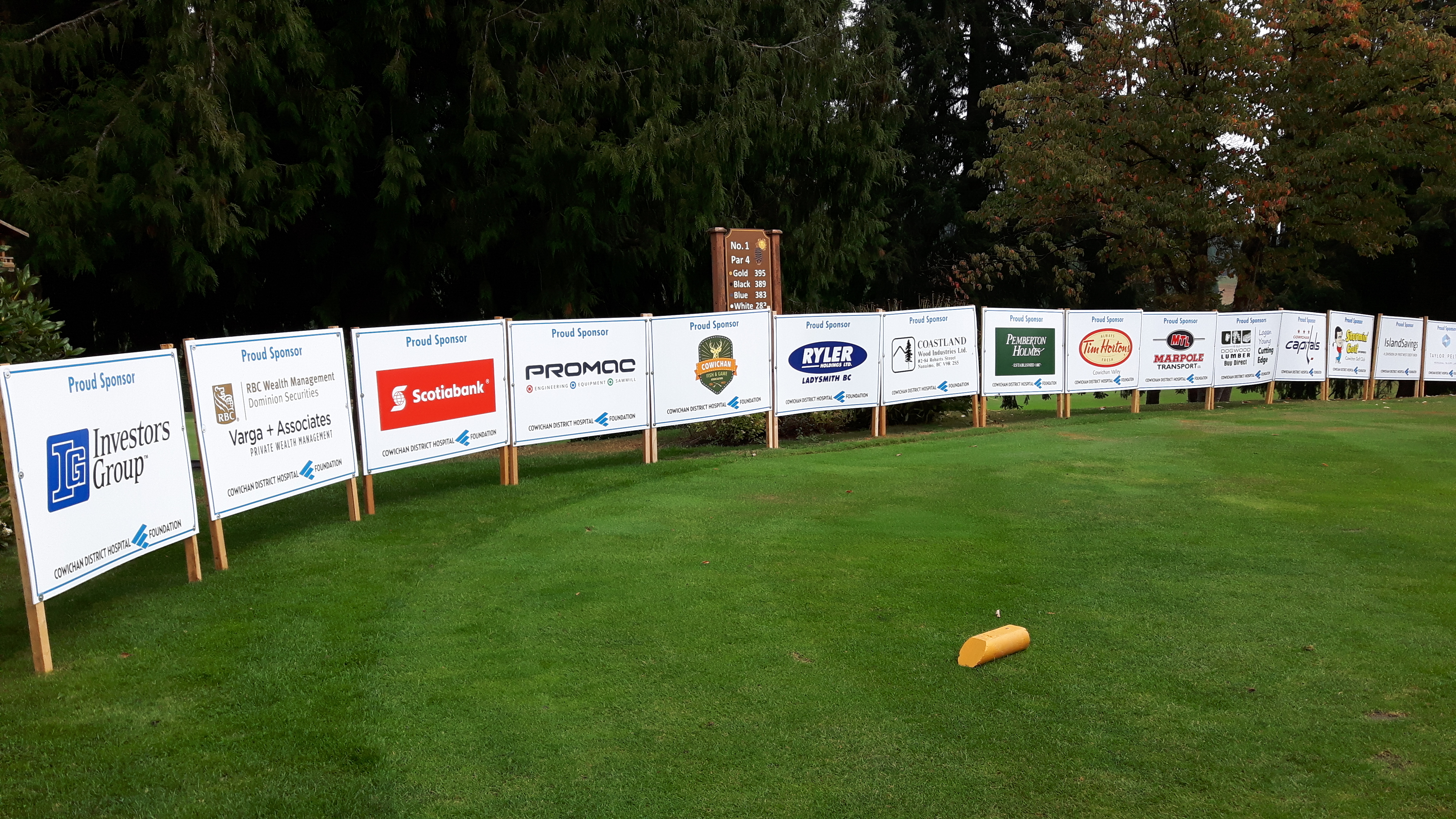 Please note below:
_______________________________________________________
______________________________________________________
___________________________________________
To the members of the Cowichan Fish and Game Association
This is a note to let you know that the members of the board are working with the Glenora Residents and B.C. Parks towards a solution for the noise abatement.
In addition, B.C. Parks will be starting the process for a park management plan for the Cowichan River Park of which we will all play a part in.
For more information, please attend the next General Meeting in August 2018 or contact any one of your GFGA Directors.
Geoff Maxwell
President   
Notice to members:
Please do not open the gate for shooters that do not produce a membership card. 
CFGA members MUST display their membership card while on CFGA property
Most recent good works of Cowichan Fish & Game Association.
Donated $1000.00 to the Chinook net pen operation at Port Renfrew.  Check out the photos on the FISHING page
Thank you to the members that volunteered for the work party.
Geoff Maxwell, Wes Hein, Joe Davis, Chris Whittaker, John Gibbs,Dale Hayton,     Jelmar Tromp, Rick Ferrel, Dennis Leslie, Brenda Donn, Richard Buck,Ron Monk.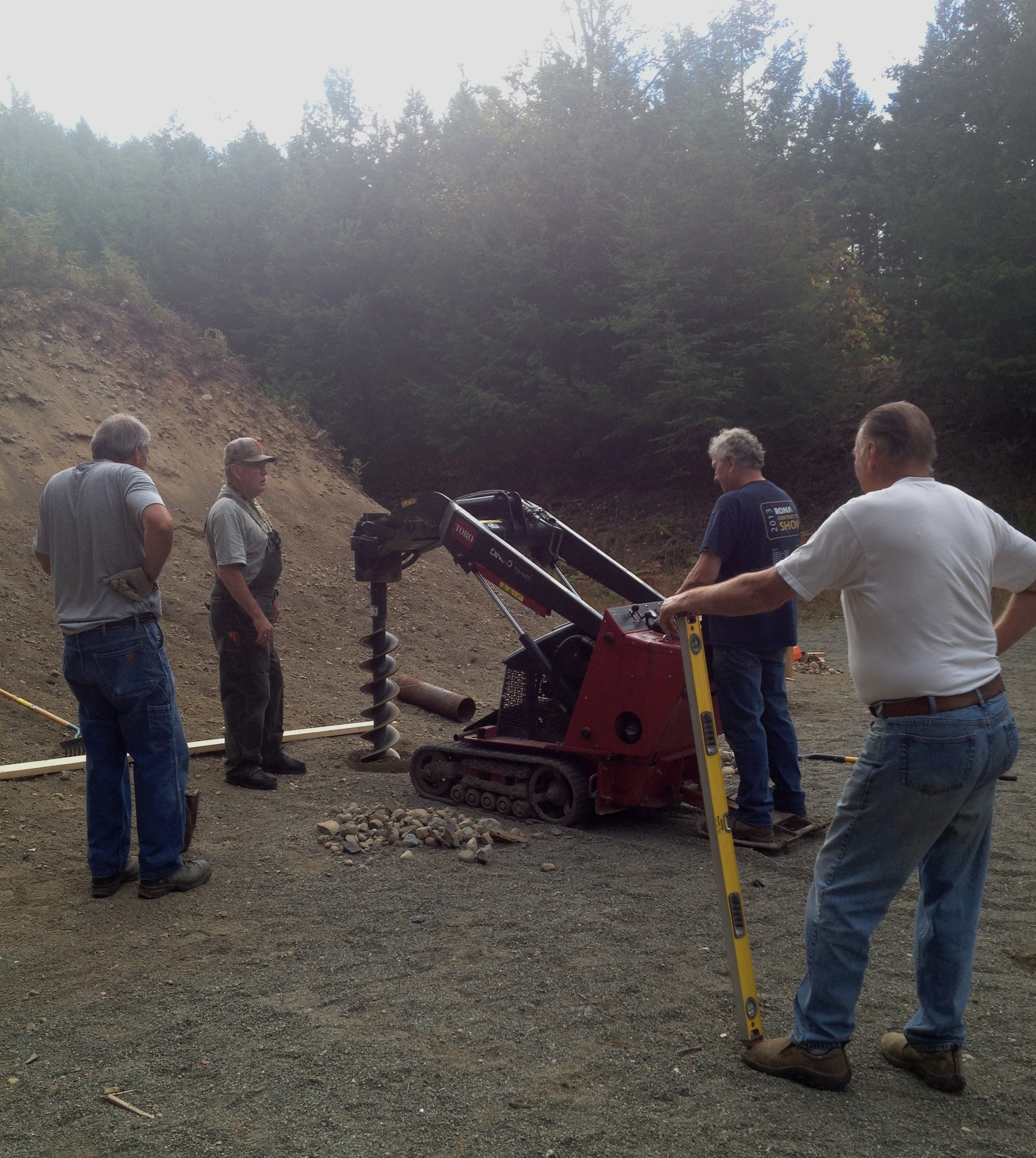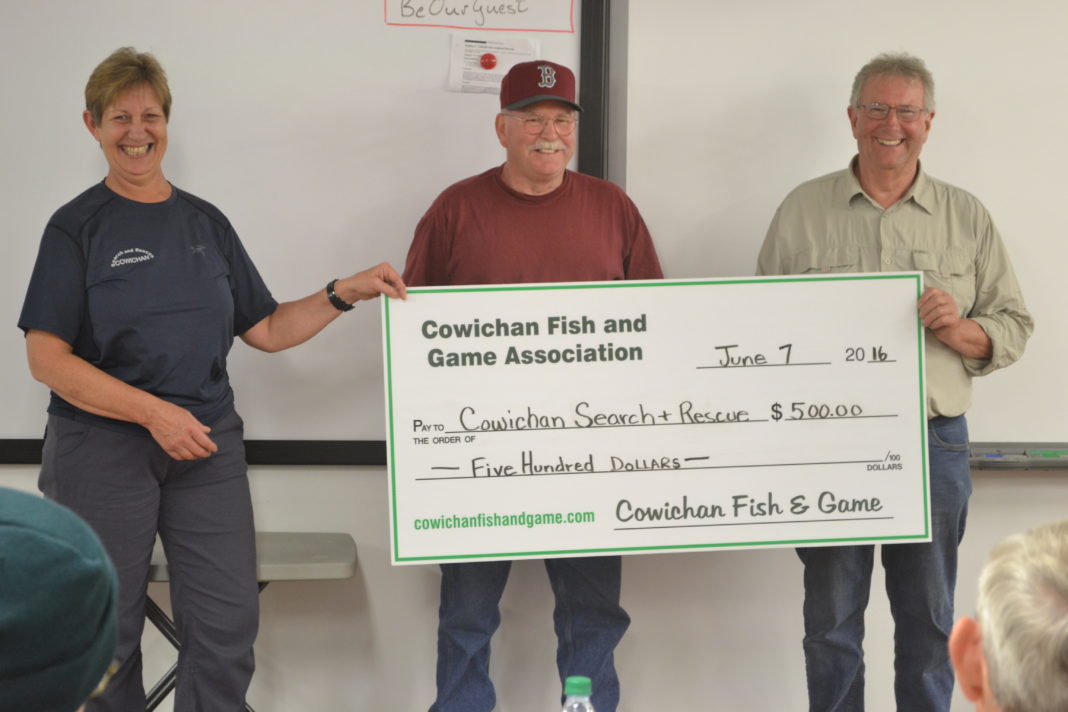 Cowichan Fish & Game, Proud Community Supporter
In the past few months we've seen the Cowichan Fish & Game Association step up and give to several community groups such as the Learn to Fish and Salmon Release programs.
Recently they were at it again with the association president, Geoff Maxwell presenting the Cowichan Search & Rescue with a donation to aid the group in their life-saving activities.
President Jeff Maxwell informed CSAR members that what they are doing is commendable activity as they are all volunteers giving freely of their time, with minimal gov't. funding and relying solely on public donations, saying that" Cowichan Fish & Game Association is honoured to be able to make this donation."
According to Maxwell we should be on the lookout for the Cowichan Fish & Game Club to be making additional community support activities over the next few months.
"The Fish & Game Association is about what the name says, but at heart that's really about our broader community, and we intend to support that where we can", Maxwell said.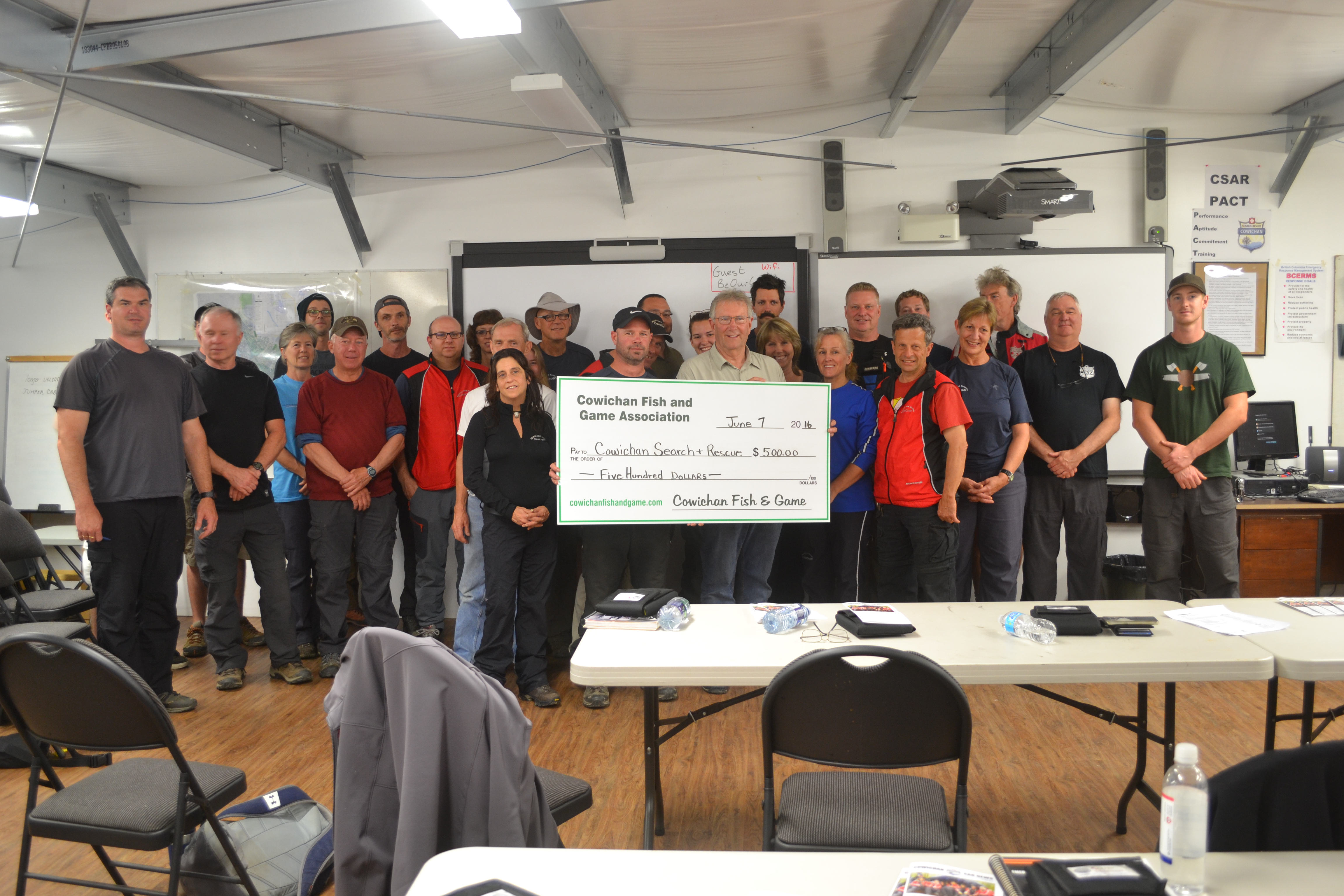 Click on the link below for the article on our donation to Kids Learn to Fish.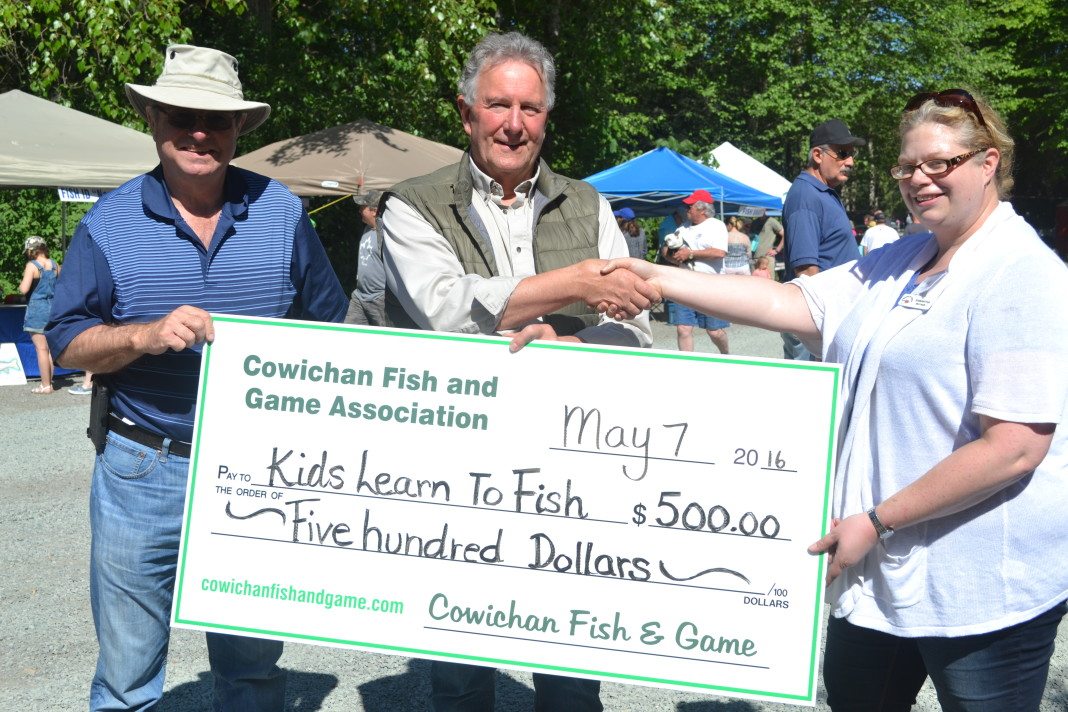 !!  Lost at the range: Bruel Kjaer sound level meter with an orange notebook.  Please contact a CFGA Director with information regarding this item.

To Cowichan Fish & Game members:
A Conservation, Education and Donation Committee was formed by the CF&GA Board of Directors to set rules and guidelines and to recommend organizations to receive a donation under these guidelines. The following organizations are the first selected to receive funding from the Cowichan Fish & Game Association for 2016.
There will be appropriate media coverage at the time of the donation or event when it occurs.
Mill Bay Conservation Society
Port Renfrew Salmon Enhancement Society
Cowichan Search and Rescue
Kids Learn to Fish
Geoff Maxwell
To all Cowichan Fish and Game Association members:
Insurance 2018
The CFGA directors have purchased 2018 club liability insurance from HUB insurance. The insurance policy from HUB does not cover liability of members using ATVs or ORVs.
HUB is offering a discounted insurance policy to club members. Click on link below: 2016 ORV-ATV HUB insurance
HUB liability coverage includes:
Legal liability for unintentional bodily injury or property damage arising out of your personal actions from the following activities being excess personal liability.
• Fishing
• Lawful shooting at a range
• Hunting
• Archery at a range
• Use of the ownership of a watercraft up to 26 feet with motors of not more than 100 horsepower.
CFGA members may purchase complete ORV/ATV liability insurance at a discount from HUB Insurance. ( see link above )                                                                          Liability insurance provider: HUB International Barton Insurance – Nanaimo
Ph: 250-740-8416
Sign in Procedures : Please remind your guests that the guest envelopes must be completed with Name, Address and PAL or birthdate.
Range Maintenance:  Target stand repairs: Material is now available at the 100 yd range for our members to use if needed to repair the target stands.