PLEASE SEE THE CALENDAR FOR ANY RANGE CLOSURES
RANGE HOURS OF OPERATION
50, 100, 200 Yard Ranges:
   Monday, Tuesday, Thursday, Friday, Saturday: 9:00 am to 5:00 pm
   Wednesday: 9:00 am to 8:00 pm
   Sunday: Rim-fire only 9:00 am to 5:00 pm
Indoor Range:
– 9:00 AM to 5:00 PM Daily
 – 9:00 AM to 8:00 PM Wednesday
It is now permitted to use following Templates – .22 Long Rifle, 9 mm Parabellum, .357 S & W Magnum.  NO BLACK POWDER SHOOTING IN DOOR.
PERMISSIBLE HANDGUNS INCLUDE .357 Mag, 9mm,.44 Mag, .45 ACP, 7.65 Parabellum, .22 LR HV, .22 LR Std. Velocity, .22 Long, .22 Short
PERMISSIBLE RIFLES INCLUDE .22 Rim fire ONLY
 Steel core ammunition allowed on the 100 yard range only                                              At this time shotguns are not allowed on the 50, 100 or 200 yard ranges
No STEEL CORE Bullets Permitted
Trap Range:
   Monday, Tuesday, Wednesday, Thursday, Friday and Saturday 9:00 am to 5:00 By appointment only      ****WEDNESDAY @ 2:00 PM WEEKLY

ALL Gun Ranges are Closed on 5 Statutory Holidays: Christmas Day, Family Day, Canada Day, BC Day & Labour Day
HANDGUNS ARE NOT PERMITTED ON TRAP/100/200 YARD RANGES
---
For information regarding the TRAP RANGE please contact Fred Bull 250-748-5855 EMAIL
---
FREQUENTLY ASKED QUESTIONS: Due to gates at the entrance to the shooting facilities there will be changes to the sign in procedure upcoming. To read about the changes and how they will affect you CLICK  FREQUENTLY ASKED QUESTIONS.
---
Our Ranges
CF&GA maintains four shooting ranges at our club headquarters on Robertson Road in Duncan. Included are three outdoor ranges; a covered 100 / 200 yard rifle range, a covered 50 yard handgun range and smallbore (.22 LR caliber) as well as a single station trap range.  Additionally, a six position heated 20 yard indoor range. Please see the SPECIFIC RANGE RULES below to identify what types of guns and ammunition may be used at each individual range.
Safety Is YOUR Responsibility
The primary purpose of the ranges is to promote marksmanship among our members.  Shooters of diverse backgrounds must shoot safely together, sometimes without the benefit of a "formal" Range Officer present.  As you have been given the privilege of using the CF&GA ranges, it is your responsibility to understand and practice the CF&GA property and range use policies.
BE SURE ALL PROJECTILES ON THE 50  AND 100/200  RANGES ARE DIRECTED INTO THE BACKSTOP. AT NO TIME SHALL A PROJECTILE HIT THE GROUND BEFORE THE BACKSTOP.
Property Use Policies
Property gates open at 8:30 am each day.
When on the property, you must have your current membership card in your possession.
Only CF&GA members may use the ranges at no charge.
Security Gate at the Shooting range: Members with FOBs will be able to open the security gate.Members without FOBs will need to be with a member with a FOB to open the gate.
Members Signing In:
Members with FOBs will swipe their FOB over the Reader to sign in.
Members without FOBs will sign at the 100 yd range. Please remind your guests that the guest envelopes must be completed with Name, Address and PAL or birthdate
Guests:
Members may bring guests to the range.
The guest must sign in. the guest envelopes must have the Name, Address and PAL or birthdate and the CFGA member's number.
The guest must fill in the info on the fee envelope include the $10 day fee, tear off the receipt, seal the envelope and deposit the envelope in the slot. Retain the receipt while on the range.
Guests without PALs must be supervised by the CFGA member they are a guest of.
A guest must not be at the range without the CFGA member present on the range.
Shooters must supply your own approved targets, staplers and other necessary supplies. Ear and Eye protection are mandatory.
Range Offcer 
In the event that a qualified Range Officer is not present at the facility please see the rules in bold below.
The first adult person at the range is deemed to be the Range Officer. When that person departs a new person should be delegated. Associate (out of area) Members or Non-Members shall not act as a Range Officer if a Cowichan Fish and Game Association full member is present.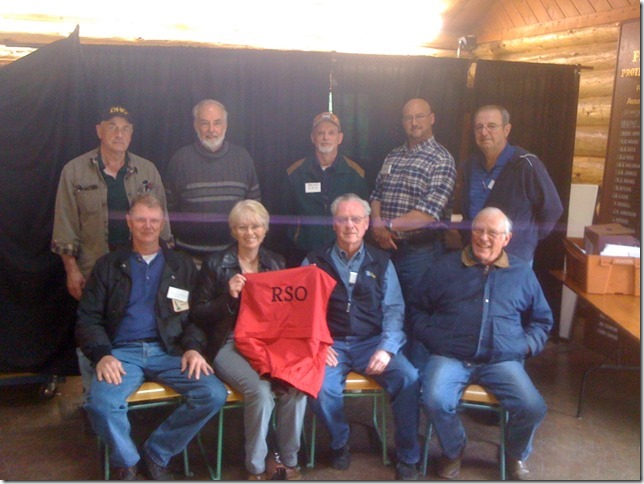 Above are the group qualified in early 2014 as Range Officers
The following GENERAL range guidelines are for the purpose of "general" shooting on the property when there are no official sanctioned events taking place. There are in addition rules specific to each range – 50 yard, 100/200 yard, indoor and trap, please read and adhere to these rules. Members and non-members utilizing the property must adhere to these rules.  In the event of a scheduled competition or match held on a specific range and that range is closed to general use, the specific match rules apply and the Match Director assumes the responsibility of Range Safety Officer.
Indoor range is not included in the above.
RULES SPECIFIC TO INDIVIDUAL RANGES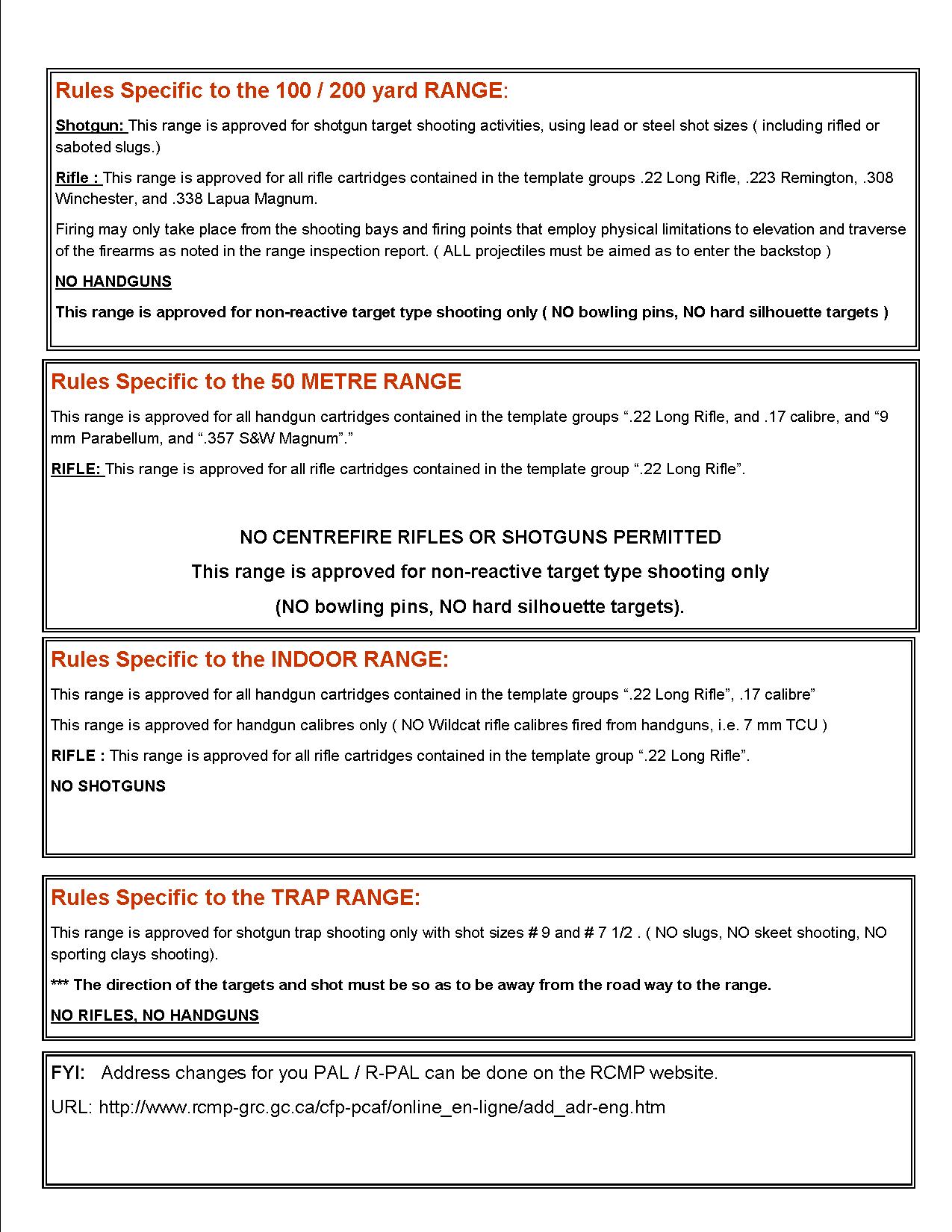 Templates Defined  Click left to view definitions of the templates above