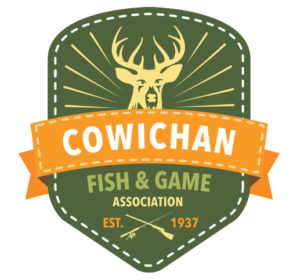 COWICHAN FISH AND GAME ASSOCIATION
~ Since 1937 ~

4295 Robertson Rd
250-746-3977
Mailing address:   Box 425,  Duncan B.C.  V9L3X8
You Need Community – Friendship – Purpose – Fun – Your Community Needs You
Address
Phone
About CF&G
Our Ranges
National Range Day
Small Bore Sunday
Blackpowder
Horseshoe Chapter
Timeline
About Cowichan Fish & Game
WELCOME
Cowichan Fish and Game wish to remind our members and Guests to respect BC Health Protocol for the COVID-19 virus.
The Cowichan Fish and Game Association has had the privilege and pleasure to work with our neighbours and district to give back and build a strong inclusive community for almost a century.  The Cowichan Fish and Game Association (a not for profit society) is dedicated to the continuance and enhancement of hunting, fishing, and the shooting sports within British Columbia. We support the conservation of fish and wildlife, especially the Cowichan Valley, as well as providing a safe and controlled environment for teaching gun handling and shooting skills. Since 1937 CF&G has been a presence for building, supporting and contributing to the community.
Our members have developed the Cowichan River Trail and maintain the 5 km of trail closest to our club house. This trail, which is now within Cowichan River Provincial Park, is open to the public with our association providing access to one of the trailheads and a heated public washroom.
We maintain five ranges at our club headquarters on Robertson Road in Duncan.  We are willing to support any other officially sanctioned sport, Olympic or otherwise that our membership wishes to pursue. We also host a Horseshoe Club with a four station pitch and  for participants to meet and socialize.
We are committed to supporting our community, and have donated over $40,000 towards numerous causes over the last few years, such as Cowichan Search and Rescue, Cowichan District Hospital Foundation, Royal Canadian Marine Search and Rescue, Duncan Hospice, Vancouver Island University and the Port Renfrew Salmon Enhancement Society.
As a way to advocate for the firearms rights of our members we also contribute to the Canadian Coalition for Firearms Rights and the Canadian Shooting Sports Association to support their legal initiatives to have the government respect those rights.
OUR RANGES
Included are three top outdoor ranges; a covered 100 and 200 yard rifle range. A covered 50 yard handgun range. The 50 yard has a designated station for firing shotgun slug and pistol steel core ammunition.
Indoor range, a six position heated 20 yard indoor range. The bottom Trap Range.
Please see the attached PDF templates to identify what types of guns and ammunition may be used at each individual range.
Indoor Range   |   50 yard range   |   100-200 yard ranges
BE SURE ALL PROJECTILES ON THE 50  AND 100/200  RANGES ARE DIRECTED INTO THE BACKSTOP. AT NO TIME SHALL A PROJECTILE HIT THE GROUND BEFORE THE BACKSTOP.
  ***PLEASE SEE THE CALENDAR FOR ANY RANGE CLOSURES***(link)
FUN & FROLIC
NATIONAL RANGE DAY
National Range Day is an annual day set aside to honour and celebrate the people, places and events that shape the legal Canadian firearms community.
National Range Day, first Saturday in June, is a day created to recognize the 2.3 million licensed gun owners who responsibly, legally, and safely own and use firearms in Canada.
Our sponsors have included : Dulux Paint, Gone Fishin', Home Hardware, Windsor Plywood, Bucky's Sport, Traveland RV, Save On Foods
Demos : Royal Canadian Search and Rescue Cowichan Bay, Fire Smart, Cowichan Search and Rescue
***  pictures  ***
Trap Range
Saturday

from 10 – Noon
we will be conducting a weekly 
Saturday
trap session at our range.
Wednesday
afternoon trap sessions will continue as usual. 2pm ->
Reminder: Bring your own shotgun and ammunition
Sign in when you arrive
Fee is $7.00 (cash) per 25 rounds to cover costs of clays
Usual number of rounds per session 1-3
Shooters are asked to participate in the clean-up afterwards
Beginners are welcome as experienced members will assist
SMALL BORE SUNDAY  (The indoor range may be used for all approved calibers as long as the door is closed.)
Sundays afternoon range facilities are reserved for shooting rimfire calibers only. This includes .22 & .17 caliber rifles and .22 handguns. Rimfires are fun and inexpensive to shoot and provide great year-round practice.
These Sundays are an opportunity for youngsters to learn about firearms and shoot in a safe place supervised by a grandparent, parent or responsible adult. It's best to start new shooters with .22 /.17 caliber firearms and to teach about safety, sight alignment, trigger squeeze and breath-control.
The club has target stands and a variety of fun targets to challenge the experienced shooter as well as the novice. Ear and eye protection are mandatory.
Volunteers: We are looking for more members to help out and participate on these Sundays. We'll have friendly competitions so please come share your skill and experience and meet more of our member shooters.
BLACK POWDER
Welcome – at the 50, 100, 200 ranges.
Some restrictions apply for fire conditions
HORSESHOE CHAPTER
Horseshoe Club
The first Sunday of each month, approximately 10:30 a.m. start, is horseshoe day at the range. The league is for mixed teams with various skill levels. A handicap system ensures everyone has a chance to compete equally. Everyone is welcome to join the league. When the weather is too bad for horseshoes some of the crowd can be found playing cards in the , but beware this hardy bunch has been known to throw horseshoes by flashlight in the dark and in snow storms!
With funds raised, we have been able to purchase a new fridge for the Founders Hall and will additionally purchase landscaping supplies including sprinklers.
For newer club members who may not know:
Brown Day was started in 1988 with a Pig Roast at Bell and Agnes Jackson's to honour George Brown…a retired Alberta farmer and sportsman living in Cowichan Lodge, who generously donated $10,000.00 to the club in 1988. This donation enabled us to install hydro to the club and thus encourage people to apply to be a caretaker. Tom Duncan was chosen at the time.
In 1977 the event was expanded to Browns' Day to also honour Roland Brown for all the work he had done and continued to do building and maintaining the Cowichan River Footpath, both before and after it was taken over by B.C. Parks and renamed the Cowichan River Trail. Cairns to both Browns are under the roof on the left as you pass on the way to the clubhouse and ranges.
For more information on the Horseshoe Club and their activities call Freda Fielden 250-748-8202  or Marie Skertchly 250-746-6405
TIMELINE
1931  Club formed as the Cowichan Angling Club
1933   January 16th renamed COWICHAN FISH and GAME ASSOCIATION                          
1937   99 year Lease signed with the Ministry of Lands
1938/1945   Training Range for the Military and PCMR
1962   Caretakers shack built
1967   Indoor Range Moved In
1969   100/200 Yard Shooting Range Shed Built
1970   CVRD Acquired Land Lot 1 Section 6 Across From the Range
1987   Right of way Cleared and Power Put In By BC Hydro (if CVRD  would have put in Hydro for the Park the cost would have been over $100,000 or in 2020's $262,000)
1988   Caretaker Moved In
1989   Clubhouse Renovated
1989    Built  
1992   Members using Handhelds for Throwing Clays for the Trap Range
1993   Ducks Unlimited Sporting Clays Event
1994   Trap House built
1995   July 12th Cowichan River Park Established and surrounding the CF&GA Range.
1997   First Automated Trap Machine Purchased
1998   Trap Machine Installed
2004   The Restrictive Covenant over the Glenora Staging Area Allowing Airport Purposes Only, was Amended to Allow Park Use
2015   New Trap Machine Installed
2013/07/23   Range Approval for Handguns, Rifle, Shotgun was issued by the Chief Firearms Officer, Terry Hamilton.